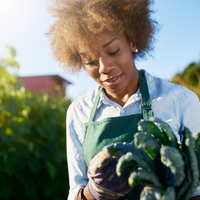 About Oya Foods
At Oya Foods our products put women at the heart of Africa's economies - supporting a woman-owned and managed agribusiness value chain. 
We believe in celebrating African food, prepared the African way by African women. We specialise in dried packaged and bottled vegetables, sourced exclusively from our network of women farmers and suppliers. Women farmers are typically small scale and dispersed across multiple geographic locations. Individually they do not produce at a scale to service large retail outlets
Our initial offering includes a suite of leafy greens consumed around the continent, dried to preserve shelf life and reduce waste, whilst retaining nutrition and of course a culinary taste explosion. We have expanded into sauces, powders, snacks and beverages. And this is just the beginning!  
Welcome to our world!
Oya Foods is a company of Oya (https://www.oya.company)